Home Minister Lalchamliana launches Integrated Road Accident Database (iRAD) Project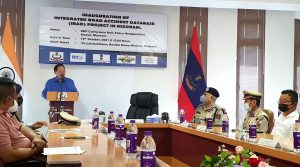 The Hon'ble Home Minister of Mizoram Shri Lalchamliana inaugurated Integrated Road Accident Database (iRAD) on October 12th, 2021 at the official function organized by the Mizoram Police at DGP Conference Hall, Police Headquarters, Khatla, Aizawl. The inauguration programme was chaired by Shri John Neihlaia, IPS, IGP (Hqrs) in the presence of selected officials from NIC Mizoram and iRAD Stakeholders such as Police Department, Transport Department, PWD (Highways) Department and Health Department.
The Home Minister on launching iRAD Project thanked the joint effort made by all the stakeholder departments for making this project rollout from 15th September 2021. This project, he believed would particularly be very useful for Mizoram PWD in improving the road safety measures along the roads in Mizoram. In his inaugural speech, he had also highlighted some of the important projects that are currently operating under the Mizoram Police Department such as CCTNS (Crime and Criminal Tracking Networks & Systems) and 112 ERSS (Emergency Response Support System).
After initiating iRAD in 6 pilot states – Tamil Nadu, Karnataka, Maharashtra, Madhya Pradesh, Uttar Pradesh and Rajasthan in February 2021, Mizoram state became one of the four(4) states and one(1) Union Territory (i.e. Chhatisgarh , Telangana, Odisha, Mizoram and Puducherry) who is able to implement the project in all districts. This clearly highlighted the excellent team spirit and good coordination among all the stakeholders of the State of Mizoram.
Overview of the iRAD system was presented by Robert Laltanpuia, State Rollout Manager, iRAD, NIC. Er.R.Lalrammawia, Director, Transport Department and Er.H.Zoramliana, S.E.(Planning), E in C office, PWD also delivered short address. The inaugural function ended with Vote of Thanks by Shri R.A.Sanjeev IPS, IGP (Law & Order) & State Level Nodal Officer/ Single Point of Contact (SPoC) for iRAD, Mizoram.