Inauguration of Aizawl Rural DTO and Launching of Vahan 4.0 in Mizoram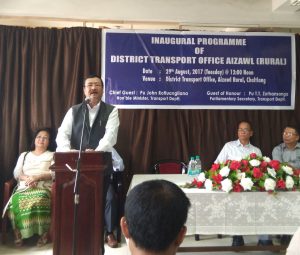 A new DTO site "Aizawl Rural DTO" and Vahan 4.0 was inaugurated by Shri John Rotluangliana, Hon'ble Minister, Transport Department, Mizoram in the presence of Shri T.T.Zothansanga, Parliamentary Secretary, Mizoram on the 29th August, 2017. As part of Transport MMP driven by Ministry of Road Transport & Highways, launching of Vahan 4.0 in 8 DTOs (including the new DTO) was held by the Minister on the same occasion. The function was conducted by Shri Lalthangpuia Sailo, Secretary, Transport Department, Mizoram and was attended by Jt.Secretary, Director, Jt.Director, Officers and staff of Transport Department and Transport Team from NIC, Mizoram guided by Smt Lalmuanawmi, Coordinator, Transport Project.
Delivering his inaugural speech, Hon'ble Minister, Transport Department, highlights the works done by NIC and the appreciation he has for Transport Department for achieving a milestone by launching Vahan 4.0 in Mizoram. The State Assistant Project Manager for Transport Shri Lalbiakdika give a brief report on the new DTO site and Vahan 4.0. Transport Project Coordinator from NIC, Mizoram Smt Lalmuanawmi also give a brief description of Vahan 4.0 and its advantages. Shri Remmawia, Director of Transport mentioned the importance of creating a new DTO site with the hope of launching Sarathi 4.0 soon. The function ended with Vote of Thanks.