Mizoram launches Electronic Point of Sales in Government Fair Price Shops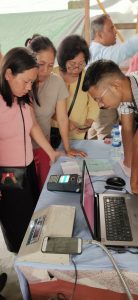 Dated Aizawl, 3rd September, 2019: On 3rd September 2019 evening, Pu K.Lalrinliana, Minister of State, Food Civil Supplies and Consumer Affairs(FCS&CA) launched Electronic Point of Sales (ePoS) at Government's Fair Price Shop, Zonuam Retailer -I, Zonuam, Aizawl. The same facility is expected to be installed in all the 149 FPS within Aizawl city during this month. And 1270 FPS in other parts of Mizoram are also expected to be provided with the same as soon as possible. With this implementation, Mizoram has joined other states on the drive of 'End to End Computerisation of TPDS Operation scheme', a joint initiative of Ministry of Consumer Affairs, Food & Public Distribution and National Informatics Centre (NIC).
[In his inaugural address, the Supply Minister Pu K. Lalrinliana gave his assurance to the beneficiaries that this machine is a simplest device that can be easily used and operated by the users without any complication. On explaining the reason for digitizing the FPSs he said, "Rather than complicating the process of PDS in FPS, this scheme is meant to ensure the real beneficiary get his exact quota of ration every time, to ensure transparency in the PDS, to reduce wastage and to contain unfair disposal of the surpluses which frequently cost the government, heavily". Most importantly, he had also reminded all the beneficiaries on the indispensability of linking their Aadhaar and their Ration card in order to benefit through the PDS at FPS, after the implementation of ePoS.
Dr Lalhriatzuali Ralte, Director had conducted the sequence of this programme for Launching of FPS Automation. The reports on administrative part and technical part was given by Pu Robert C. Lalhmangaiha, Deputy Director, FCS&CA and PU Lallawmkima, Scientist -B, NIC-Mizoram, respectively. After this, live demonstration of FPS Automation/Operation of ePoS Machine was conducted. Pu Zothantluanga,MLA,15-Aizawl West-I Constituency gave his notable presence, Pu HL Rochungnunga, Commission & Secretary, FCS&CA, along with his staff officers from directorate and all the districts were also attending the function.