Two Days training on eProcurement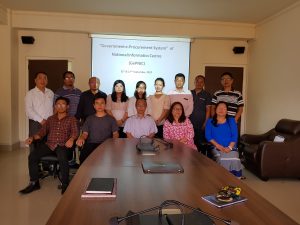 On the 21st and 22nd of September, 2017, NIC Mizoram conducted two-day training program for officers of the Irrigation and Water Resources Department (IWRD), Government of Mizoram. The training sessions included presentations on the Overall GePNIC features, requirements and advantages of the eProcurement system developed by NIC followed by hands-on demonstration of the https://mizoramtenders.gov.in portal for each process by showing step-by-step procedure viz. System requirements/configuration, Role of Nodal Officer, Creation of User Accounts, DSC registration and usage, preparation of BoQ, NIT, Tender Creation and publishing, Bidder's Module, Technical and Financial Bid Opening and Evaluation, Corrigendum and AOC.
Lectures were delivered through PowerPoint Presentation by Ms Lalhmachhuani eProc Coordinator and B. Lalhruaitluanga & Lalhriatpuia Sr. Programmer from NIC Mizoram State Centre, Aizawl. Interactive Questions and Answers period was held after each session during which various issues were raised by the participants which were answered by the resource persons.