Training and Demonstration on eChallan for Traffic Police Aizawl, Mizoram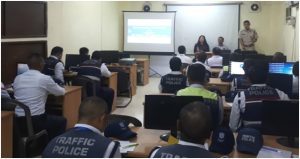 Dated Aizawl, 5th September, 2019: A six day training and demonstration on e-Challan Mobile and Web interface was conducted by NIC Mizoram for Aizawl Traffic Police at NIC Training Hall from 29th August 2019 to 5th September 2019. The training was inaugurated by Shri Rodingliana Chawngthu, Sr. Superintendent of Police, Traffic Aizawl.
Delivering his inaugural speech, Sr. Superintendent of Police, Traffic Aizawl highlighted the importance of e-Challan in order to tackle urbanization issues and said it is an essential step in a move towards becoming a smart city.
Challan Training – Traffic Police[/caption]Dr. Rama Krushna Das, SIO mentioned about how e-Challan works and how data is pulled from Vahan and Sarathi, NCRB, PUCC and IRDA. Ms C.Lalmuanawmi, Transport Project Coordinator mentioned about how Transport related data is stored in National Register and that there is data integrity and genuinesness in e-Challan.
The training was held in two phases in which 20 traffic police each were trained for three days each in one phase. The Traffic Police Department provided 21 Phablet for the training in which e-Challan Application were installed and used by the participants during the training. The training was concluded on 5th September 2019 by Shri Jacob Hlychho, DSP, Traffic Aizawl with a few discussion and deliberation about e-Challan among the participants. In his closing speech, the DSP expressed his appreciation to NIC Mizoram for the efforts put in by NIC Mizoram to make the training possible. The training was a huge success for all the participants with the hope that the application will go live in Aizawl Mizoram in the near future.